Long Bay Shipwreck
La Famille Express
The Long Bay Shipwreck is the most famous shipwreck in the Turks & Caicos Islands. La Famille Express is located about 2 miles off Long Bay's Kite Beach on Providenciales. When on Long Bay Beach, look directly out and you can't miss it. It has been a major attraction of kite beach since its arrival in 2004 when it was dragged along the coast of Providenciales during Hurricane Frances. If you get the chance to pay her a visit, you might notice that mother nature has taken her toll when compared to the image to the left. The shipwreck is now much more rusty and many parts have since crumbled.
Kite to The Long Bay Shipwreck
With the right wind direction and conditions, it is possible for advanced kiters & foil boarders to kite upwind to La Famille Express. This is a 2 miles upwind ride and should only be attempted by advanced kiters who take all necessary safety precautions. 
The Long Bay Shipwreck is a very fun area to kite and a great starting point for a downwind ride back to Long Bay's kite beach.
Boat trips to The Shipwreck
Boat trips to The Long Bay Shipwreck are the most popular way to check out La Famille express. Most local boat charter companies offer this as a part of their trip options. Many boat charters will allow you to climb up onto the shipwreck and jump off, though we do not suggest this as it is extremely rusty & generally dangerous.
For a great boat charter option, check out our friends at Caicos Catalyst.  Captains & owners Mat and Morgan are fellow kiteboarders and know the waters of the Turks & Caicos as well as anyhow. Their boats are very comfortable and reasonably priced.
History of La Famille Express
La Famille Express became firmly planted in the shallow waters of Long Bay during Hurricane Frances in 2004. Under the high winds, the unmanned vessel dragged its anchor from the South Dock  area of Providenciales, a distance of almost 12 miles (19 km). This anchor is still in the water near the ship.
*information compliments of our friends at VisitTci.com
Amazing learning conditions in Turks and Caicos
White sand, miles of knee-to-waist-deep turquoise water, and consistent winds make Long Bay Beach one of the most welcoming places to learn kitesurfing. You will always find enough space away from other kiters and be able to stand and relax when needed.
Our Standards at KiteProvo of Turks and Caicos
KiteProvo of Turks & Caicos has certified kiteboarding instructors for all learning styles & abilities, who are dedicated to teaching in a professional and fun manner. We use top quality equipment and jet ski support to accelerate your learning and assure your safety.
Kite Provo Offers Even More to Do!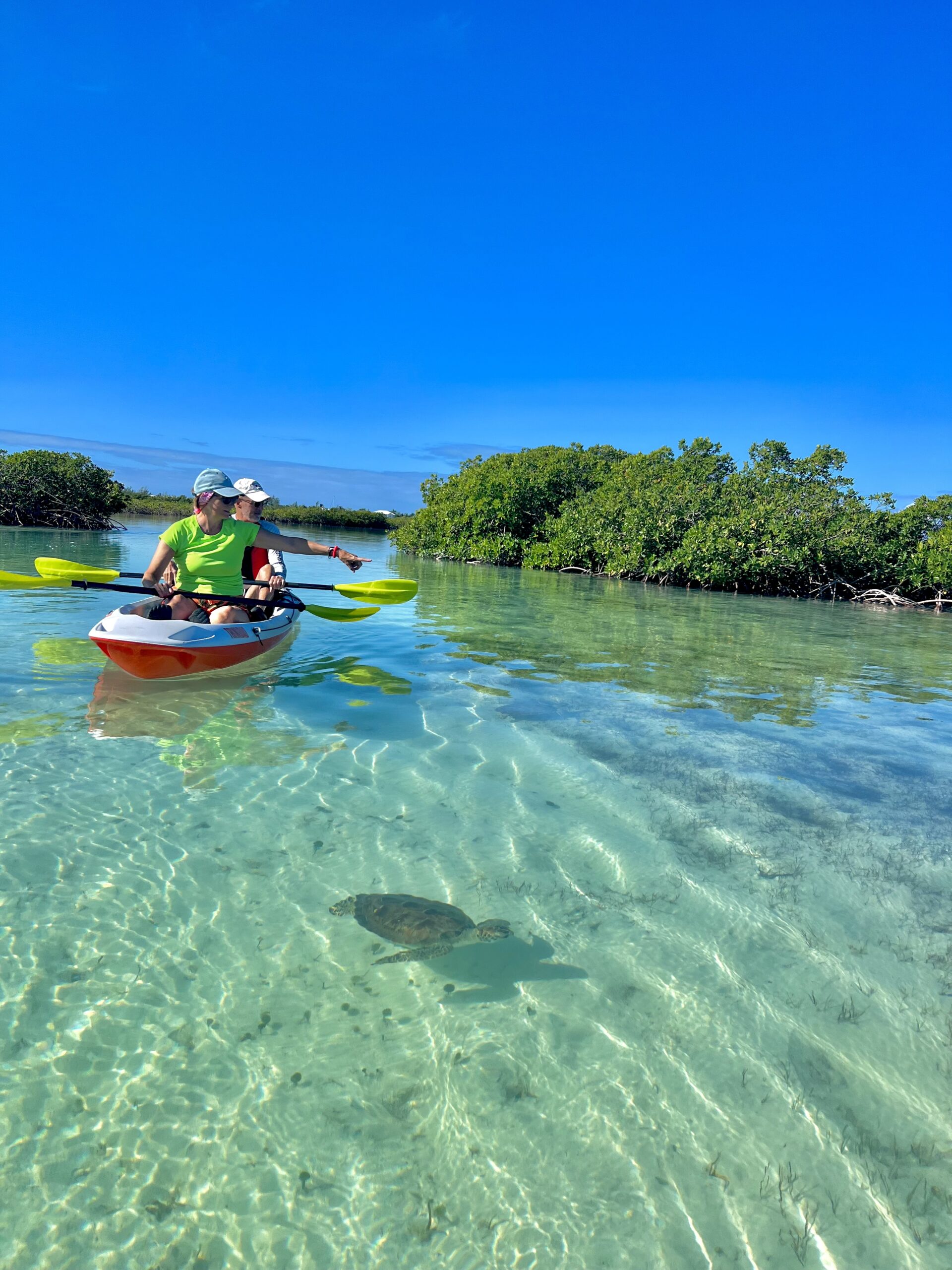 Take a magical journey through the shallow water estuaries of the beautiful Turks & Caicos 'Mangrove Island' nature reserve. Paddle alongside countless turtles, baby lemon sharks, pufferfish, rays, snapper, anemones, star fish, conch, pelicans and more.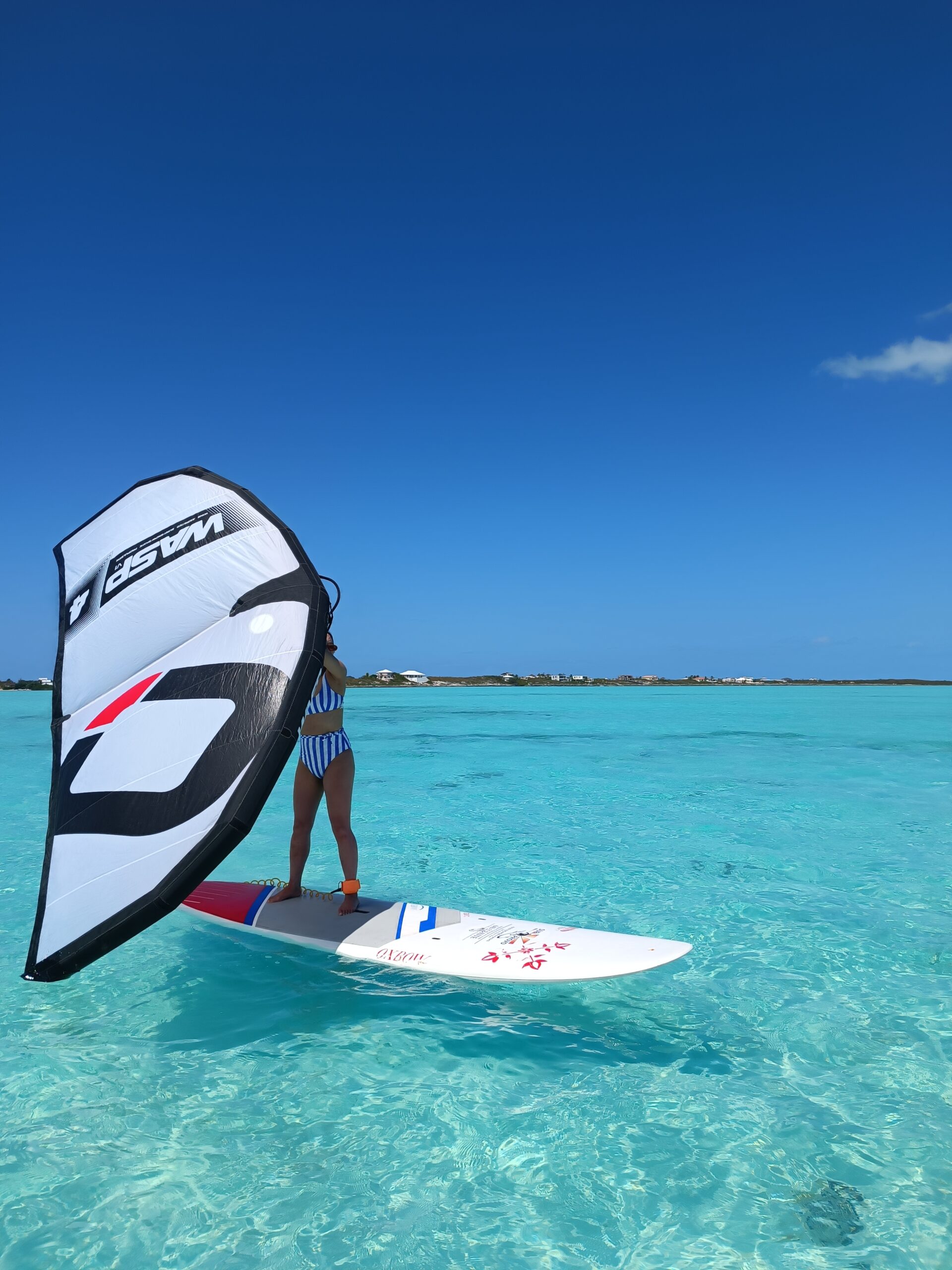 Wing boarding is the newest wind powered water sport! Safe and easy to learn as the wing has no lines and the board doesn't sink! With no previous wind or water experience, enjoy riding the board during your 1st lesson. Wing Boarding is for everyone!
See What Our Boarders are Saying About Us!
David Bobrowsky
2023-07-14
We had Jay as the instructor for my 15 year old daughter and myself and we had a great time and learned a lot. We had never done kite boarding before today and we learned enough basic controls of the kite, how to get it out of the water when we crashed it into the water and started to get up on the board. Jay was very patient even when I did not do what he said, my daughter listened so she was his favorite. If we have time we will probably do another lesson. I would highly recommend using the Kite Provo Kiteboarding school. Update: We went back to Turks and Caicos this summer and had Alan as our instructor and he was great, just refreshed us on the skills we learned last year and moved us forward. We had a great time and I do not know how to say this any better but Kite Provo Kiteboarding School is GREAT.
Michael Swiatocha
2023-07-06
Great experience- SUPs were delivered on time and we used them for our entire trip.
Lovely morning with lots of wildlife, and a fantastic naturalist as guide and teacher! My daughters and I are fairly new to SUP, having only been once before, several years ago, with the same organization. The other participants cancelled at the last minute, and we had a private tour with Mark. He was absolutely the best we could possibly expect. Patient and calm, constantly keeping an eye on us to see that we felt safe, encouraging us to try and stand up where the water and wind were calm, etc. He is also very knowledgeable and caring about the marine ecosystem and sea-life. We saw lots of turtles, baby sharks, and various other creatures. We especially appreciated that he was focused on preserving the ecosystem, even at the expense of providing us with additional "thrills". He is also very honest about what he does and doesn't know. Thanks, Mark, for an exceptional experience.
Andy Brijmohansingh
2023-06-19
Service was excellent. Instructor was patient and very friendly. I definitely recommend
Went for a water start refresher…. Lessons as expected. The team was super cool and friendly.
I had an absolute blast today trying out kitesurfing for the first time! The instructor was super patient with my errors and taylored the training perfectly to fit my life experience. Thanks to a phone call the morning of, I was able to get in the same day. The online reservation is for more than 24 hours notice.
Victor Rosales
2023-05-02
Instructors are great, they showed me some issues with my technique and was improved by end of session. There will provide you with excellent equipment, but I brought my own and the instructor showed me some things about my equipment I didn't even know .
antoine planque
2023-04-06
Just finished a 10 lesson course (20 hrs) with Sarah Jane. Extremely satisfied, SJ has been very patient and helpful, and thanks to this I have been able to improvement considerably in all areas. Thanks also to Julie for the first lesson, also an excellent coach. And finally thanks also to Alan and the other coaches, they are a superb team for anyone who wants to improve and progress, Long Bay in Turks & Caicos is certainly one of the best places to learn and improve kitesurfing.