1st Lesson Ever- with a Wing!
INFORMATION
BOOK NOW
DIRECTIONS
GALLERY
INFORMATION
Wing Boarding lessons- Easy to learn!
Have fun riding almost right away- without hrs or days of lessons. No pervious kiteboarding, wind or water sport experience necessary. 
The "wing" is a kite that you hold in your hands vs steer with a bar & lines (like kitesurfing). It is far more intuitive & easier to learn. The wing is similar to a kiteboarding kite in the sense that both are inflated to give rigidity & shape.
The wing board is very big (size of Stand up Paddle Board). It is very stable & doesn't sink.
Private lesson – $350 / 2hrs
2 people – $500 / 2hrs (you must supply 2nd person)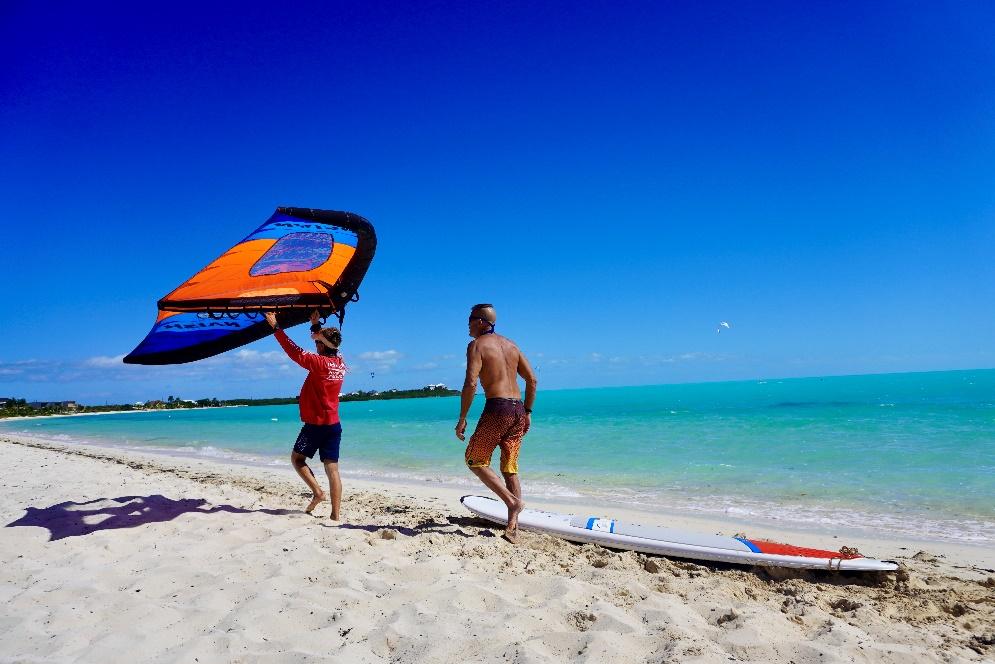 Instantly Fun & Easy to Learn
The wing is held in your hands- no lines & no learning to steer the bar (like kiteboarding). Learn to maneuver the wing on the beach to generate power & head right to the water with your board to ride! 
Fun for families or small groups!  
Kite Provo has developed a step-by-step learning pathway with the aim of helping you build confidence while steadily progressing & having fun.
KiteProvo got involved in wing boarding as soon as the sport first started to become popular. We are addicted to this new fun wind sport & have been teaching wing boarding and wing foil boarding lessons for years now.
We also offer lesson packages and rentals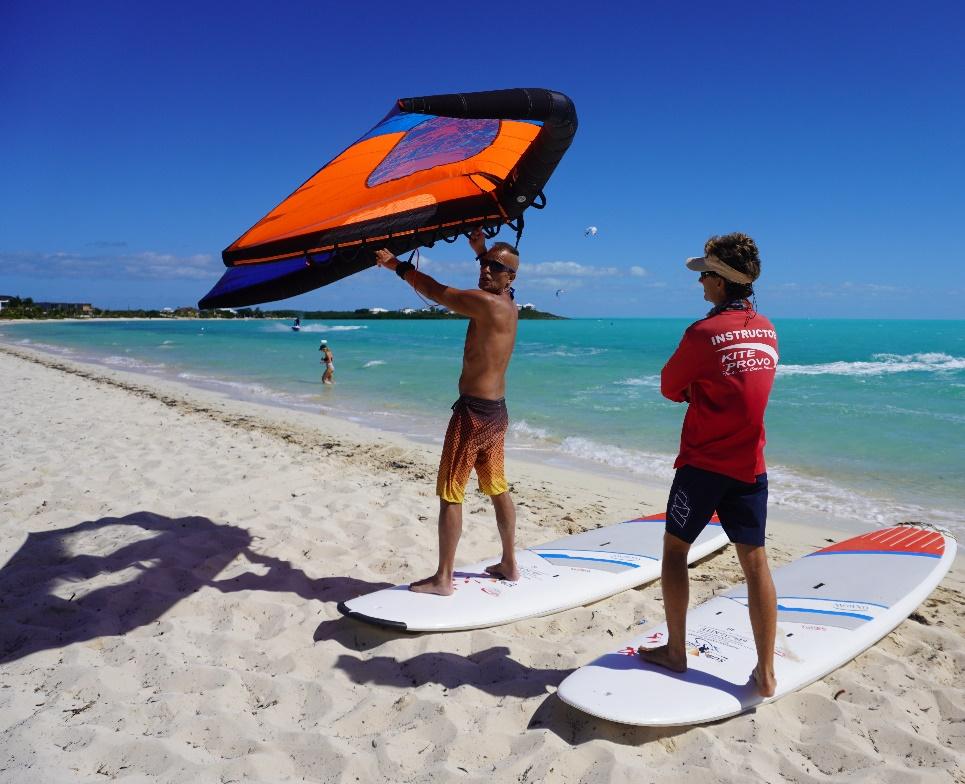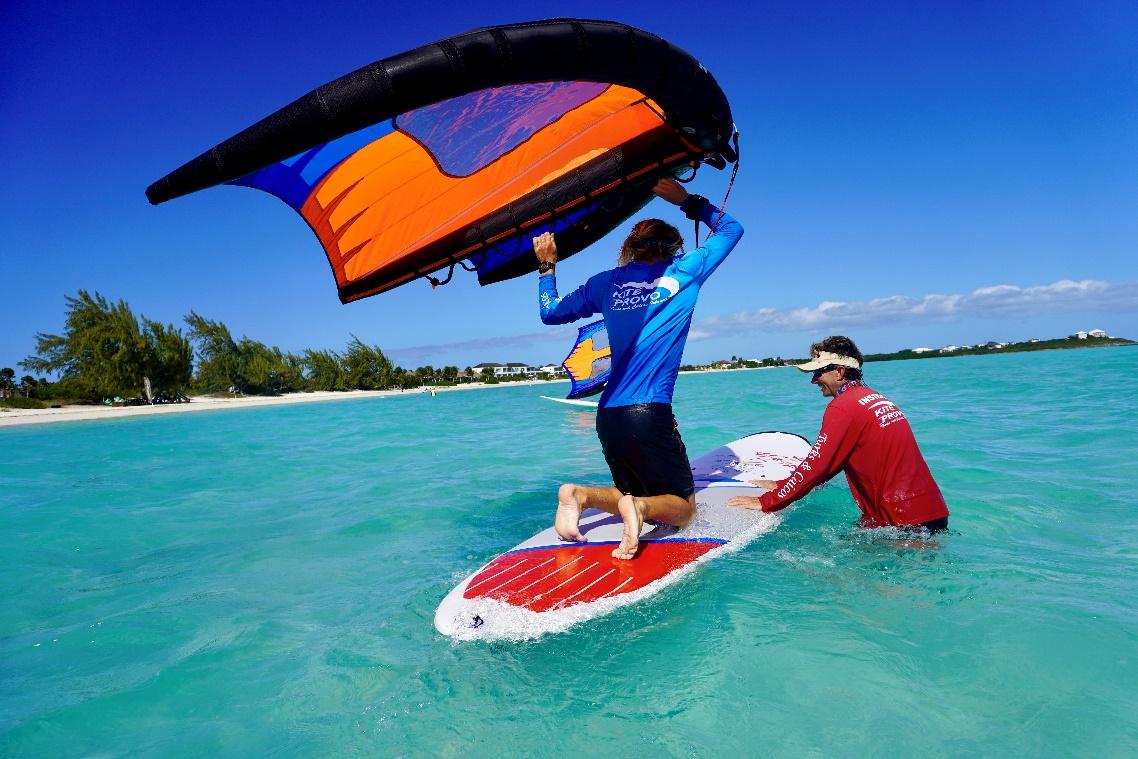 Low Risk and Immediately Fun
The power of a wing is far less than a kiteboarding kite- making it easier and more safe. You can stop the power instantly by just letting go! 
Learning to ride a wing board is much faster than learning to ride a kiteboard. The wing board is very large and offers a great deal of stability & doesn't sink!
The wing board is a large stand up paddle board with a unique 'center fin' that allows you to carve downwind & upwind.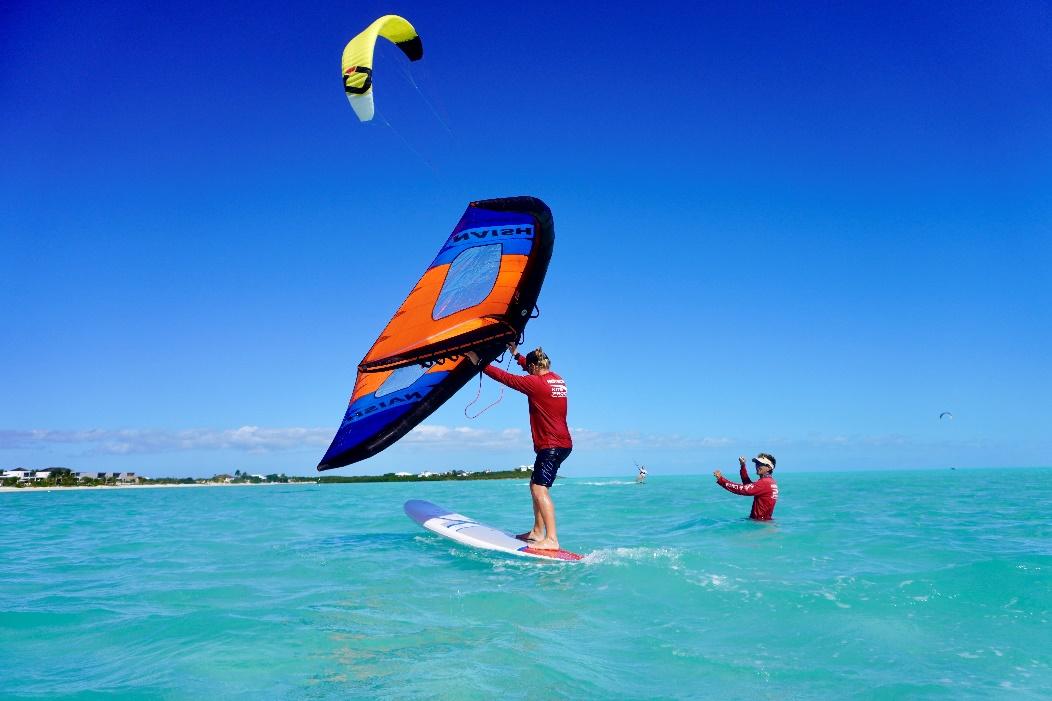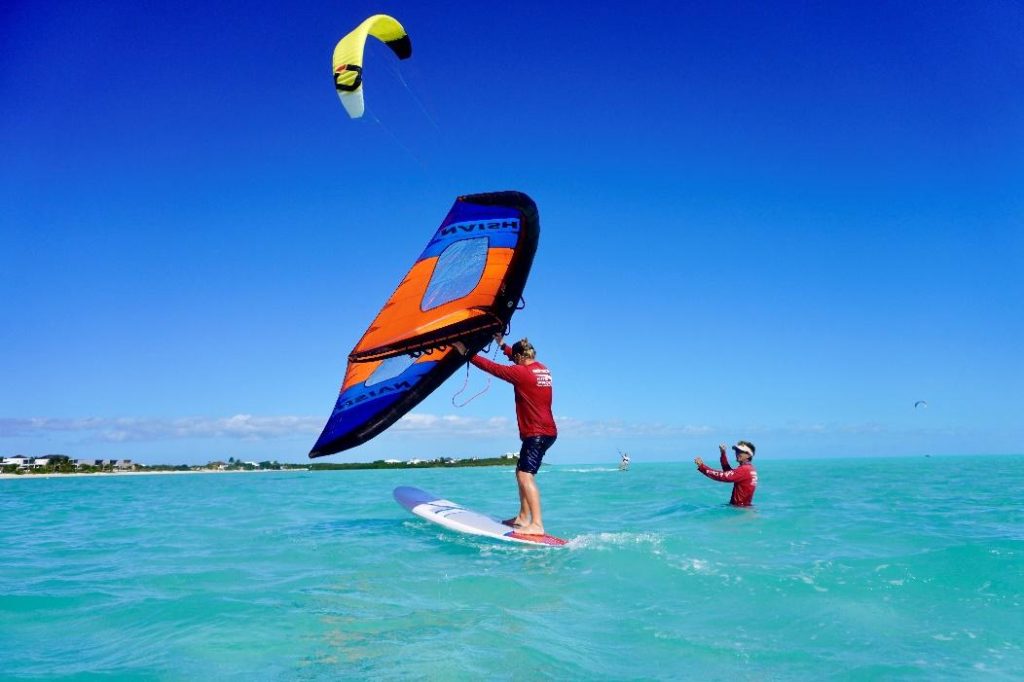 Sail across the water from the power of your wing!
Practice handling the Wing and learn how to generate power.
Simulated water starts on the beach & power control.
Learn to change direction (transition) with the the wing.
Handling the board, wing, and leash in the water.
Your first rides on the large wing board. 
Changing the angle of the wing to the wind (trimming) to steer & control power.
Learn how your body positioning impacts your upwind & downwind riding angles.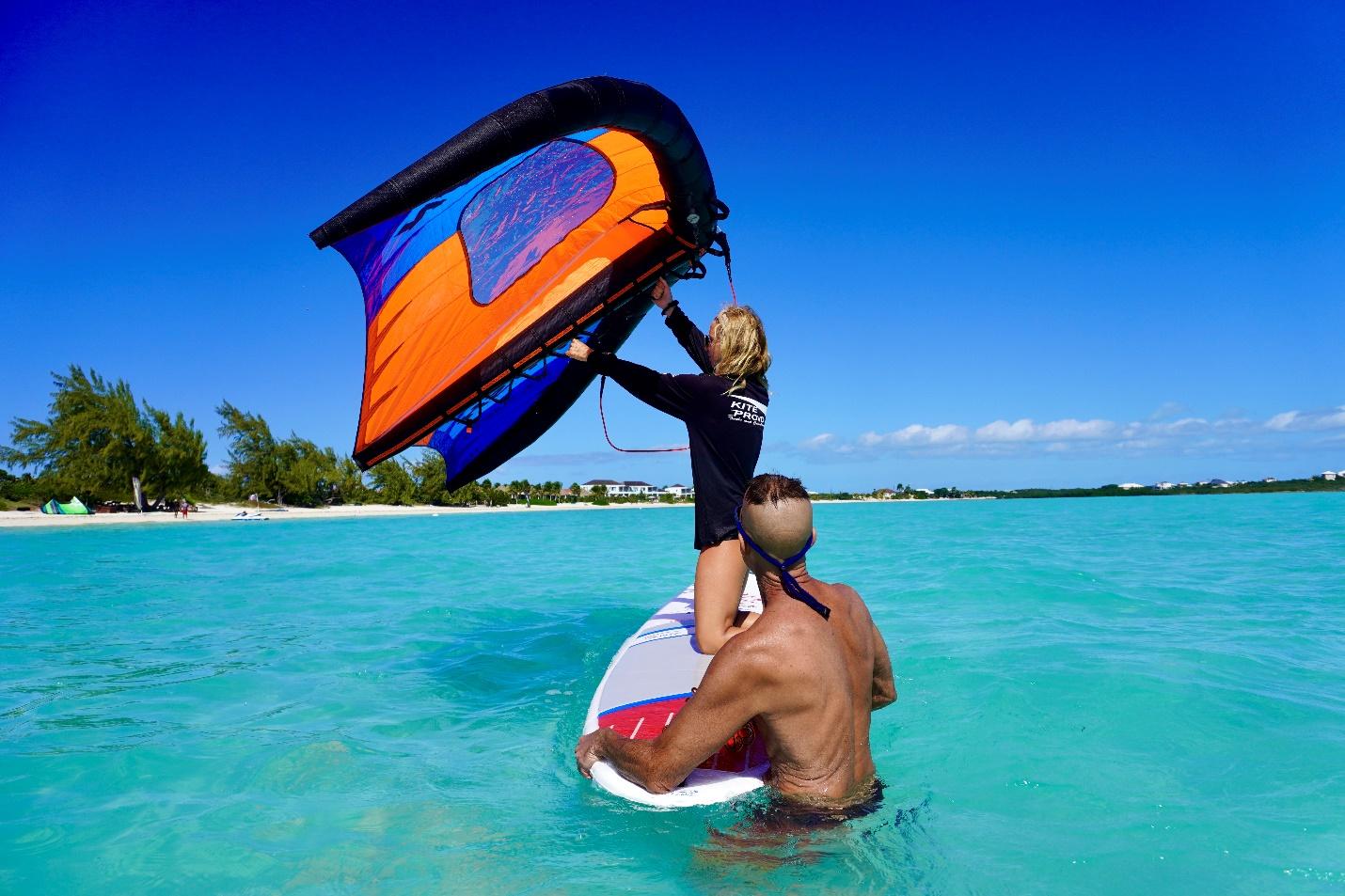 Group Dynamics – Means Learning Faster!
Kiteboarding takes a great deal of multi tasking. Kite Provo Instructors have been trained to master the art of group dynamics. Keeping the entire group engaged and switching the kite back and forth every few moments.

This combines visual and tactile learning for a very powerful combination. Almost all of our students say the break through moments came when they tried and then watched someone else to identify how to improve themselves.

Kite Provo instructors engage everyone in the course all the time while sharing the equipment. This creates learning opportunities all the time. The group dynamics environment accelerates the learning process by providing frequent mental and physical breaks in combination with practice.
What to Expect When Learning to Kiteboard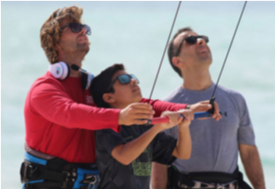 Kite control & power strokes in the water with LEI(leading edge inflatable) kite.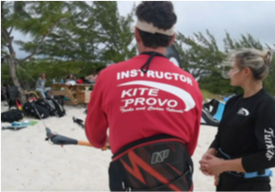 Proper body and board positioning combined with the kite movements to get up on the kiteboard.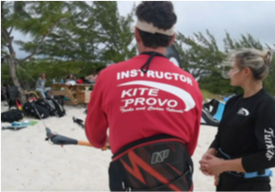 Controlling Your Speed, & Learning How to Stay Upwind
See What Our Boarders are Saying About Us!
The instructors were excellent, patient and encouraging. My daughter and I took both a 5 hour beginner session, as well as a private 2 hour class. We got to the point of getting up on the boards, very exciting! Chris and Maui (not the correct spelling), and Jerry were professional and nice. It was an excellent experience!
Charlie Stuart
2021-12-15
The instructors are professional, instructive, friendly and most importantly patient with all of my incessant questions. The business is located on an amazing beach. Training takes place in shallow waist-deep, clear (82 degrees F) water with a soft sandy bottom that stretches for miles. It's a dream setting for learning how to kiteboard.
Laura Rosenberger
2021-12-12
Spent 3 days kiting with this amazing group. "SJ" is an incredibly patient instructor, excellent communicator for beginners, fun, enthusiastic and an excellent kite boarder herself! HIGHLY recommend this company. Professional, flexible, easy to contact.
Great experience and program for learning how to kite. Highly recommend them.
I had three lessons with three different instructors. All three instructors were phenomenal! Also – I can't imagine a better location to learn the basics.
I signed up for the fast track lesson and it was a great experience. The instructor was very knowledgably, patient and helpful…as well as a jokester which made it that much more enjoyable. Would highly recommend!!
BOOK NOW
DIRECTIONS
GALLERY