INFORMATION
BOOK NOW
DIRECTIONS
GALLERY
INFORMATION
Surprisingly Easy and Fun!
Wing Boarding is the newest wind powered water sport. Winging is relatively quick and easy to learn, especially when compared to kiteboarding.
Harness the power of the wind with your wing & enjoy riding the board during your 1st lesson! The "kite" has no lines and the board doesn't sink!
Easiest to Learn!
Suitable for ANYONE 80lbs or More!
$350 for 2hr private lesson ($175/hr)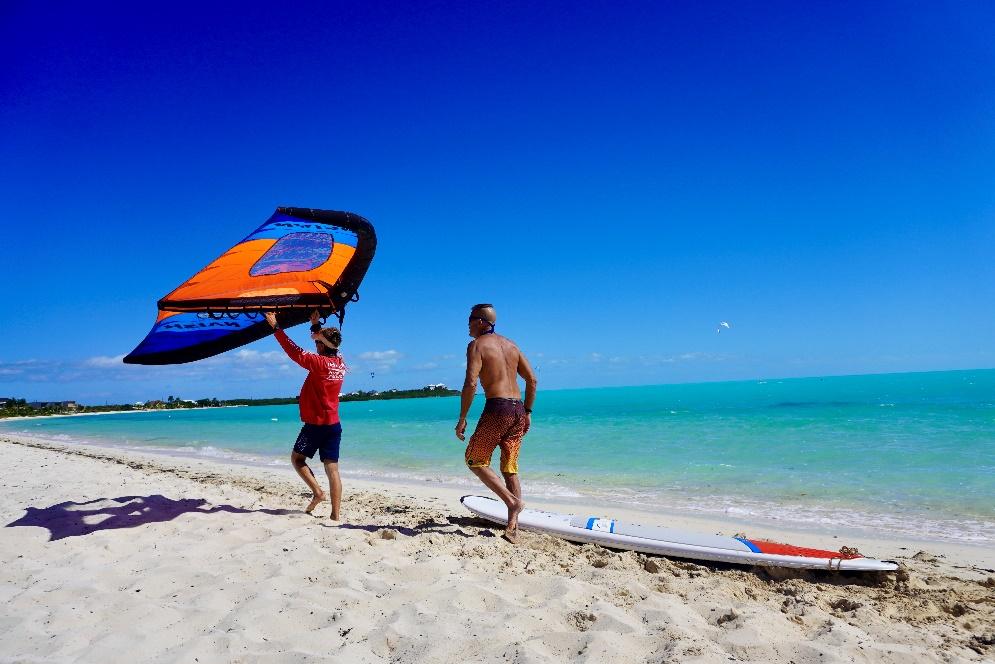 Winging is the term often used for Wing Boarding & Wing Foiling. The "wing" is a kite- but without lines! It's very similar in nature to a kiteboarding kite as you inflate both to give rigidity & shape. Unlike kiteboarding, the wing is held in your hands & not attached to the rider by a harness. This makes wing boarding much easier to learn and typically more safe.
Experience the thrill of riding across the water on your wing board by harnessing the power of the wind from your hand held wing!
What is the difference between Wing Boarding vs Wing Foiling ?
The difference is the board. Wing Boarding uses a large board similar to a stand-up paddleboard (image above). Wing Foiling uses a smaller board with a mast and large hydrofoil (image to the right).
Learning wing boarding is easy and fast. Most people can enjoy riding during their very 1st lesson! Wing Foiling is more extreme and typically takes numerous days to master.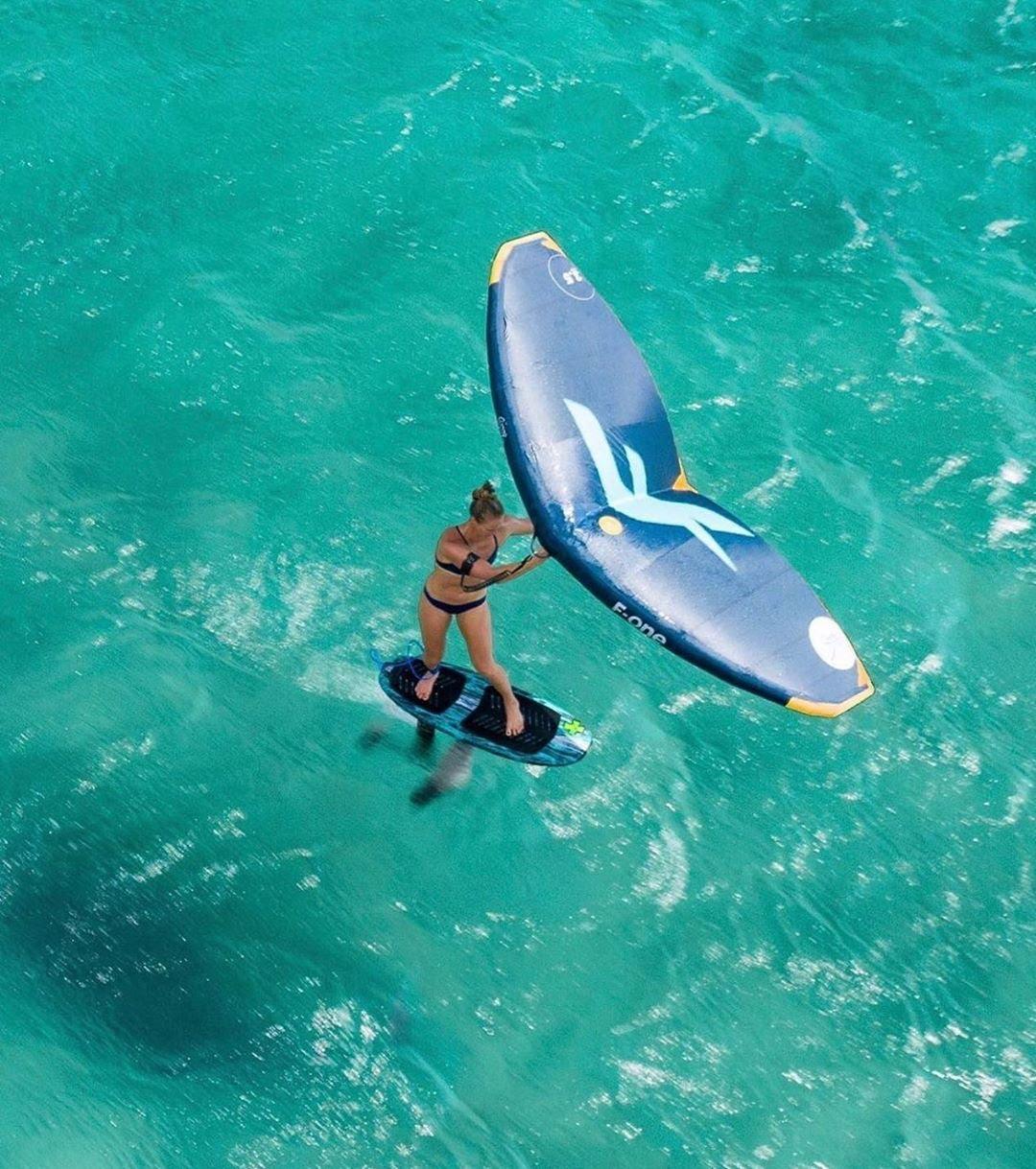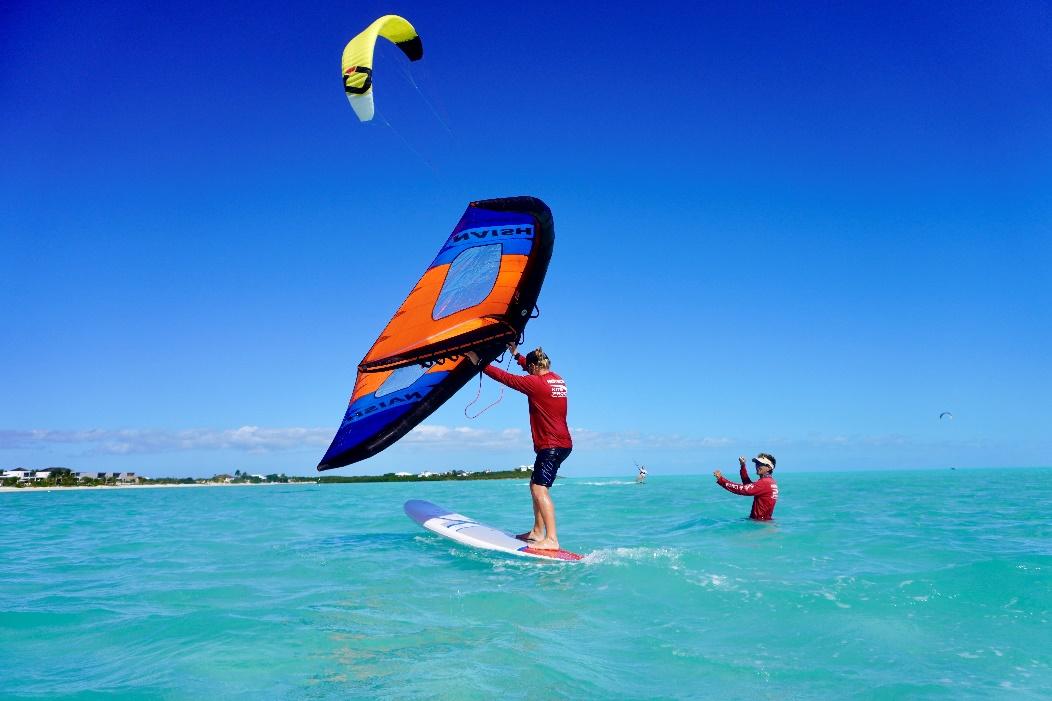 Due to the large size of the board, you can easily stand (like a stand up paddle board) and won't sink or feel unstable! This allows just about anyone to instantly have fun. Unlike kiteboarding, you don't have to focus on a flying a kite with long lines that you are harnessed to or to master the water start on a small kiteboard. The wing board has a special fin configuration that allows you to track downwind & upwind and is very stable. Wing Boarding is all about learning to handle the "wing" handheld kite- without the more complicated issues of kiteboarding. 
At Kite Provo, we promise efficient lesson plans that are proven to work!
 The fun starts with learning how to handle the wing to generate the power you need. Then master how to use your wing and body comfortably get up on the board to start riding! You will next progress to learning how to control your speed and direction- with the goal of riding 'upwind'.
See What Our Boarders are Saying About Us!
The instructors were excellent, patient and encouraging. My daughter and I took both a 5 hour beginner session, as well as a private 2 hour class. We got to the point of getting up on the boards, very exciting! Chris and Maui (not the correct spelling), and Jerry were professional and nice. It was an excellent experience!
Charlie Stuart
2021-12-15
The instructors are professional, instructive, friendly and most importantly patient with all of my incessant questions. The business is located on an amazing beach. Training takes place in shallow waist-deep, clear (82 degrees F) water with a soft sandy bottom that stretches for miles. It's a dream setting for learning how to kiteboard.
Laura Rosenberger
2021-12-12
Spent 3 days kiting with this amazing group. "SJ" is an incredibly patient instructor, excellent communicator for beginners, fun, enthusiastic and an excellent kite boarder herself! HIGHLY recommend this company. Professional, flexible, easy to contact.
Great experience and program for learning how to kite. Highly recommend them.
I had three lessons with three different instructors. All three instructors were phenomenal! Also – I can't imagine a better location to learn the basics.
I signed up for the fast track lesson and it was a great experience. The instructor was very knowledgably, patient and helpful…as well as a jokester which made it that much more enjoyable. Would highly recommend!!
BOOK NOW
DIRECTIONS
GALLERY