Lesson Times Are Not Flexible For Your Safety & Success!
How to Choose the Proper Lesson
Surprisingly Easy and Fun!
Wing Boarding is the newest form of wind powered water sports/kiteboarding. Perfect for family fun together! 80lbs and up so almost any age can learn. Much easier to learn than kiteboarding as the "kite" has no lines and the board doesn't sink!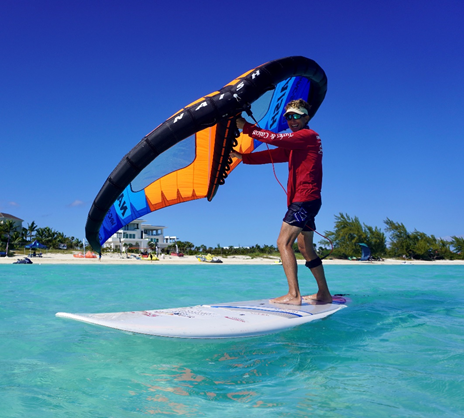 Suitable for ANYONE 80lbs or More!
Winging is term for Wing Boarding and Wing Foiling. The "wing" is a kite with no lines! It is very similar in nature to a kiteboarding kite as you inflate the kite to give it rigidity and shape.
Unlike kiteboarding, the wing is simply hand held and not attached to the rider by a harness or a board. This makes it way easier to learn, extremely safe, and a free feeling that captures the thrill of kiteboarding. Free flowing sport that gives you that amazing feeling of moving on the water propelled by the wind!
What is the difference between Wing Boarding and Wing Foiling?
The difference is the board that you are using. Wing Boarding uses a large board similar to a stand up paddleboard.
Wing Foiling uses a smaller board with a mast and hydrofoil that mostly relies on you build speed and fly above the water.
In short Wing Boarding is easy for almost everyone! Wing Foiling is much more extreme and takes more time to master.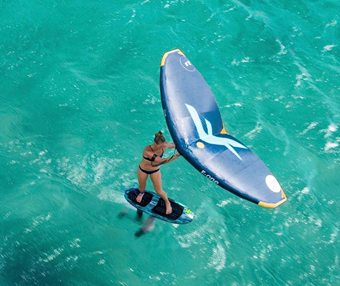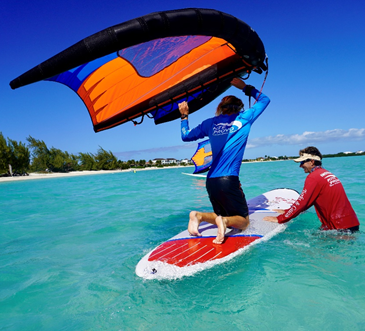 Due to the size of the board, you don't sink on the board!  This is a huge difference because you are instantly having fun! 
 Unlike kiteboarding where you have to master the water start, wing boarding is instantly sailing and having fun!   
The board has a special fin configuration that allows you to track downwind and upwind.   Wing Boarding is all about learning to handle the "wing" hand held kite.   
This is required for all first time experiences.   You must learn to handle the wing.
Perfect Step One! Wing Boarding is perfect to learn even BEFORE taking a kiteboarding lesson!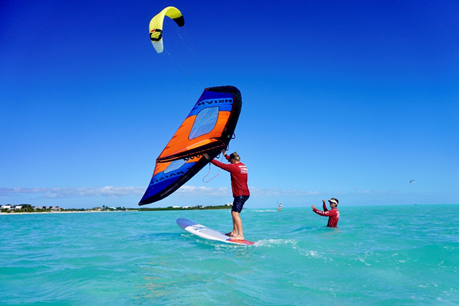 Why Learn to Wing Board?
Easy to Learn – Due to its simplicity, it is surprisingly easy to learn. No steering the kite and no sinking board!
Safe – Extremely low risk. The power in a wing is far less than a kiteboarding kite.  Power stop instantly when you release the wing.
Perfect for All Ages – Due to ease of learning and low risk it is perfect for almost anyone young to old. Perfect for a family group!
How to Learn to Wing Board and Wing Foil
Practice handling the Wing on the beach. Kite Provo experts guide you on how to set up the gear, hold the wing and moving from kneeling to standing
Simulated Riding by running on the beach with the wing.
Learn to change direction, called a transition with the kite on the beach.
Handling the board, wing, and leash in the water
Your first rides on the large wing board on your knees
Standing on the board
Changing the angle of the wing to the wind(trimming the wing) to learn to go upwind and downwind.
How your body placement on the board impacts your upwind/downwind movements.
You must start with a Wing Boarding Lesson before moving to our Wing Foiling Lesson.
Learn to Wing First, then learn how to Foil. 
Kite Provo also offers eFoil boards – electric powered hydrofoil boards so you can practice just with the hydrofoil board to perfect your board skills independently of the kite or wing!
Great instructor+perfect setting=perfection SJ and the Kite Provo crew are friendly and offer fantastic instruction. The crew are great instructors. SJ helped me reach a breakthrough with transitions and the setup- including newer gear in great shape along with shallow warm water is perfect for any kiteboarder. Top-notch!
Excellent experience, booked directly I had 5 two-hour lessons with the Kite Provo team in early December 2021 as a beginner kite boarder. Kite boarding can have a steep learning curve, especially for older guys like me. With their excellent teaching (and a lot of patience), I got up during the 4th session, and look forward to moving beyond beginner stage. I booked my lessons directly with them through their site. Here is the thank you note I sent: Dear Chris, Kristen, SJ, Mawi, Astro, and Jerry (and everyone at Kite Provo): Thank you so much for doing a wonderful job helping me struggle through being a beginner kiteboarder. I am so impressed by the quality of your teaching, your patience, kindness, and care in making sure things get done right even with the inevitable chaos all around. I very much look forward to trying to go to the next level as soon as I can.
Amazing Introductory Private Lesson My son and I had a great introductory lesson with Mawi! He took us through all the early stages at our pace, and it really cemented our desire to learn kiteboarding and make it part of our journey. We will be back!
RobbedPerson 🙁
2021-12-17
Idyllic kite spot with great instructors! Absolutely gorgeous place to learn or to improve your kiting skills. At low tide it is so shallow that you can easily recover and walk to your board. This is huge as it allows you to work on water starts and speed control without constantly exhausting yourself by treading water or body dragging. The team are so kind and welcoming. I had some of the best lessons I have ever had with Mike and SJ and improved so much in a few sessions. I will be back for another week to kite at high tide!
Amazing Kite school. Amazing instructor. Lots of fun! Kite Provo was exactly what I hoped it would be!!!! I started on day 1 not knowing a thing and by day 2 was up for my first ride. By day 5... I was having some super fun runs and really enjoying myself. My instructor, SJ, was superb. She was very patient, supportive, fun and by the end of the week... I had learned how to set up my Kite, put it away and everything in between. Can not recommed this place more highly.
Good Service great customer service, we rented two SUP for the week. good boards, good service, Highly recommended
SUP Eco Tour- My favorite activity I did on island I did the SUP Eco Tour. Probably my favorite activity I did on the island. Gorgeous scenery, great information about the area and eco system in that area. Beautiful wildlife and friendly, knowledgeable tour guides. Chris and Maui were great guides. definitely recommend this. But try to book ahead, they can only do one tour a day, weather permitting. I ended up seeing 27 sea turtles, 2 lemon sharks ( one baby one older), 1 barracuda and a baby hawksbill turtle.
The instructors were excellent, patient and encouraging. My daughter and I took both a 5 hour beginner session, as well as a private 2 hour class. We got to the point of getting up on the boards, very exciting! Chris and Maui (not the correct spelling), and Jerry were professional and nice. It was an excellent experience!
Charlie Stuart
2021-12-15
The instructors are professional, instructive, friendly and most importantly patient with all of my incessant questions. The business is located on an amazing beach. Training takes place in shallow waist-deep, clear (82 degrees F) water with a soft sandy bottom that stretches for miles. It's a dream setting for learning how to kiteboard.
Laura Rosenberger
2021-12-12
Spent 3 days kiting with this amazing group. "SJ" is an incredibly patient instructor, excellent communicator for beginners, fun, enthusiastic and an excellent kite boarder herself! HIGHLY recommend this company. Professional, flexible, easy to contact.
Great experience and program for learning how to kite. Highly recommend them.
I had three lessons with three different instructors. All three instructors were phenomenal! Also - I can't imagine a better location to learn the basics.
I signed up for the fast track lesson and it was a great experience. The instructor was very knowledgably, patient and helpful...as well as a jokester which made it that much more enjoyable. Would highly recommend!!