BOOK NOW
INFORMATION
DIRECTIONS
GALLERY
BOOK NOW
Already Riding Upwind & Looking for an Option to Practice On Your Own With Our Gear, or With Your Gear – Supervised Rentals is for You!
Kite Provo offers Supervised  Rentals, for those that can ride upwind consistently.  Practice with our rental gear(kite, board, & harness) Includes a jet ski ride upwind with our driver.   This is to get you far away from land and other kiters to ensure your safety.    We provide the security you need so you can focus on having fun!
$120.00/hr using our gear – SUPERVISED RENTAL

$80/hr using your gear – SUPERVISED RIDING
Must be scheduled in advance and at a specific time each day. Subject to the 12% government taxes
You must have taken a lesson from us before in order to qualify for a Supervised Rental.

 
Step One
Progression Lesson – If you do not ride upwind consistently, you will need to first do our Progression Lesson.  2hr lesson at high tide to teach you how to perform a self exit in the water, dis-arm the kite, managing the lines in the water, to not tangle yourself in the lines, get to the beach with  the kite in your hand.   We also work on the skills needed to stay upwind!
Step Two
Supervised Rental. This  is booked in 2hr increments at high tide and includes all the gear you need, jet ski ride upwind, and our driver to get you there.   You must be able to ride upwind consistently to do a Supervised Rental.  Supervised Rentals are booked in advance in 2hr increments.

Can't Ride Upwind consistently?:  Sign up for our Progression Lesson
Note:  We have onshore winds here and so you need to ride upwind in order to stay a safe distance from the beach.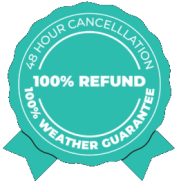 Lesson times are not flexible for your safety and success!
We are not able to move the lesson times. Lesson times are not flexible. They are based on the tides to ensure you can stand and walk with the kite. All of our online booking calendars are orchestrated to show the perfect time for your lessons all based on the tide. See booking calendar for the exact times each day.
* Note: If we are unable to partner you up with others, we do convert the last two hours of the lesson into a Private Lesson, which will increase the price by $100.00
How to Choose the Proper Lesson
Private Group or Individual?
If you are more than one person & at similar skill levels:
Choose Bring A Friend Learn2Ride or Packages.
If you are an Individual:
Choose between Very First Lesson Ever Options, Private Lessons, or Progression Lessons(Advanced)
Most experience in the industry! Chris Moore, actually pioneered the teaching methodology since the beginning of the sport itself! Teaching kite sports professionally since 1990, he has infused 31+ years of experience behind our lesson plans! He started the first kiteboarding school in 1998 after 8 years of teaching kiting sports on land. He pioneered kiteboarding instruction and established an instructor certification training system where he taught hundreds of instructors.
See What Our Boarders are Saying About Us!
The instructors were excellent, patient and encouraging. My daughter and I took both a 5 hour beginner session, as well as a private 2 hour class. We got to the point of getting up on the boards, very exciting! Chris and Maui (not the correct spelling), and Jerry were professional and nice. It was an excellent experience!
Charlie Stuart
2021-12-15
The instructors are professional, instructive, friendly and most importantly patient with all of my incessant questions. The business is located on an amazing beach. Training takes place in shallow waist-deep, clear (82 degrees F) water with a soft sandy bottom that stretches for miles. It's a dream setting for learning how to kiteboard.
Laura Rosenberger
2021-12-12
Spent 3 days kiting with this amazing group. "SJ" is an incredibly patient instructor, excellent communicator for beginners, fun, enthusiastic and an excellent kite boarder herself! HIGHLY recommend this company. Professional, flexible, easy to contact.
Great experience and program for learning how to kite. Highly recommend them.
I had three lessons with three different instructors. All three instructors were phenomenal! Also – I can't imagine a better location to learn the basics.
I signed up for the fast track lesson and it was a great experience. The instructor was very knowledgably, patient and helpful…as well as a jokester which made it that much more enjoyable. Would highly recommend!!
INFORMATION
DIRECTIONS
GALLERY