The Turks & Caicos Islands boasts the most amazing kiteboarding conditions for kiteboarding.   Long Bay's kiteboarding beach on Providenciales is friendly to beginners of the sport and those taking lessons, due to the shallow flat-water with consistent side onshore winds. However, for the more experienced kiter, the Turks & Caicos archipelago offer countless miles of back country kiting on uninhabited islands, mangrove islands, lagoons, and breathtaking views beyond imagination! 
We offer 3 Kite Adventures!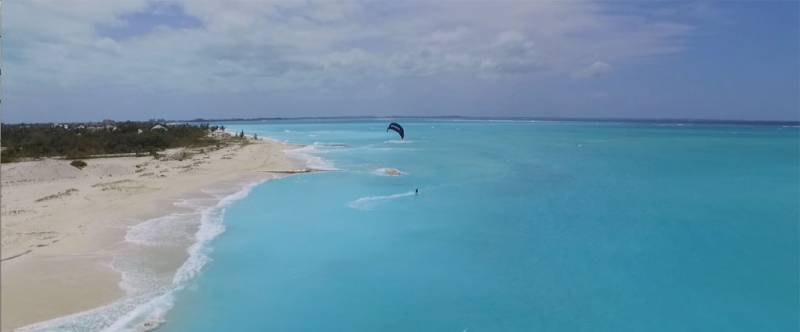 Kite the Island – Kite the Entire Length of the Island!
To take full advantage of your time in the Turks and Caicos, hire a Kite Provo guide for an epic day of kiting.  This is priced to not include a boat.  We start the adventure on the far East end of Long Bay Beach and kite along the entire South Shore of the island of Providenciales.  You will explore all the less known kiteboarding areas.  Highlights include kiting past all the luxury villas along Long Bay, stunning rock outcroppings and secluded beaches, and kite by the house that was once owned by Prince. End your journey on the far West end of the island at a local restaurant named Bugaloos. 
Includes:  Land transportation back upwind, fuel costs, and any kite gear needed
1  person – $450.00  
2  people – $337.50 each(you supply the group)
3  people – $283.00 each(you supply the group)
Learn More about KITE THE ISLAND AND CHOOSE YOUR ADVENTURE
OUR MOST POPULAR ADVENTURE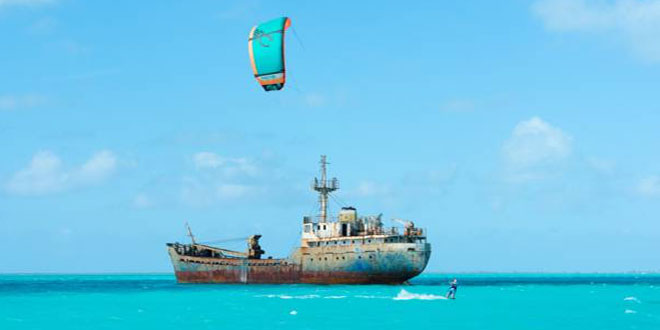 The Ghost Ship is the most famous ship wreck in the Turks and Caicos, the Soviet oil rig service vessel turned Panama cargo ship La Famille Express is located off Long Bay Beach on Providenciales. Long Bay Beach is what made kiteboarding famous here when Kite Provo was the first school to start teaching in 2006 on the huge shallow Caicos Banks.  
The Ghost Ship Downwinder is our most popular Kite Adventure because it is easier and less expensive and has quickly become a "Right of Passage" or iconic thing to accomplish while you are here on Providenciales.  We take you upwind on our high performance wave runner or our boat.   We drop you off at the famous Ghost Ship.  You then do a self guided downwinder back to the beach.  Since the winds are side onshore you are going directly downwind to get back to Long Bay Beach.
You decide how long to make the downwinder be going as slow or as fast as you want!
History of the Ghost Ship  La Famille
In 2004, in the midst of Hurricane Frances, a privately-owned freighter broke loose from its mooring and drifted into the Caribbean Sea.
Today, the La Famille Express has become knows as the "Ghost Ship".   The eerie "Ghost Ship" has become iconic on the kiteboarding beach and has set the backdrop for thousands of kiters and photographs over the years.   Kite Provo was the first school to chop their way through the heavy bushes to kite the almost entirely vacant Long Bay Beach.  Now, it is bustling with luxury villas and is home to the new Kite Provo School Locations and Rental Centers.  The Ghost ship rests on a reef in a few feet of water, abandoned and desolate. It was built in 1952 by the Russian Navy as a cargo ship, the Fort Shevchenko. It was sold to an islander in the mid-1990s, but not before witnessing the Cuban Missile Crisis first-hand in 1962. Alone on the reef, rusting and decaying since the day it was wrecked, it serves as a visual landmark for boaters and kiters and a hidden attraction of the Turks and Caicos Islands.
Available daily at 10:00 with an advanced reservation.
We charge by the Person:  
1 person:  $150.00
2 people: $125.00 each
3 people:  $100 each
Boat Charter Kite Adventures – Explore the over 40 islands in our archipelago
We created the kiteboarding scene here as the first kiteboarding school and from day one we started exploring the archipelago to find every insane kiteboarding spot we could find!
Our Boat Charter Kite Adventures  offers our guests the opportunity to get out on the water and make the most of your time here.  Using our expertise, choose from two different boat charters to enjoy the trade winds with a kiteboarding adventure exploring our islands.
Kite Provo School locations are strategically located on the East end of Long Bay Beach, due to its shallow waters and manicured bottom surface.  This makes it ideal for lessons, but there's something special about taking a boat out to discover some of our other more secluded kiteboarding locations that rival even Long Bay, where you can have the ocean all to yourself!
There aren't many visitors who can say they've explored the little islands that make up the Caicos banks with nothing but a board and a kite — now that's an adventure waiting to be had.
Once you have taken lessons with KiteProvo and can ride upwind, you are ready!   Still working on riding upwind, take lessons with Kite Provo, the oldest and most experienced kiteboarding school in the Turks & Caicos.
Boat Charter Kite Adventures Options:
We take you to secluded islands like Fort George Cay, Dellis Cay or North Caicos.
Downwinders – Note:  We require you to hire a guide for North Caicos and Fort George downwinders to ensure you don't get lost..
Entire South Side of Providenciales – Kite the entire island from Long Bay to Bugaloos with the security of a boat following you.
North Caicos to Little Water Cay – South Side
Fort George Cay to Emerald Point(deep water) – only for northwest wind conditions.
Our kiteboarding excursion includes:
Refreshments – water, soft drinks, beer, wine
Full day Lunch platter – selection of meats, cheeses, baguettes, fruit, veggie and hummus
It is up to you to provide the group of a maximum of 10 passengers.
Learn More about BOAT CHARTER KITE ADVENTURE AND CHOOSE YOUR BOAT ADVENTURE
Transcend Yourself" and take home the memories for a lifetime. Kite Provo has a professional videographer and photographer available to capture your stunning moments here through very high- tech camera gear and go- pros (attached to kites, boards, lines… wherever you want).
25+ high res. photos for clients on kiting adventure or during lessons – 300 usd
1080 Full HD video for clients on kiting adventure or during lessons – 400 usd
KITE PROVO OFFERS EVEN MORE TO DO!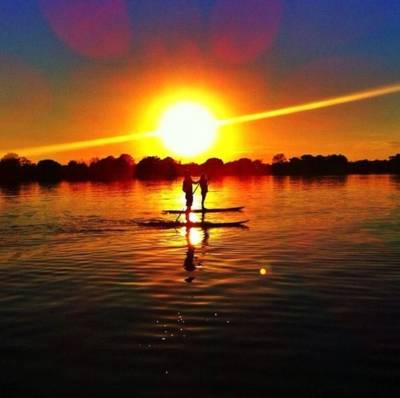 Sunset Happy Hour Paddle Tours are the perfect way to transition from the day into the evening! The heat of the day has passed and now it is time to relax.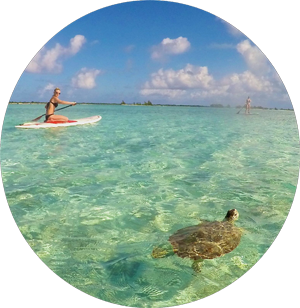 Sunset Happy Hour Paddle Tours are the perfect way to transition from the day into the evening! The heat of the day has passed and now it is time to relax.